Differentia Consulting at QlikWorld 2023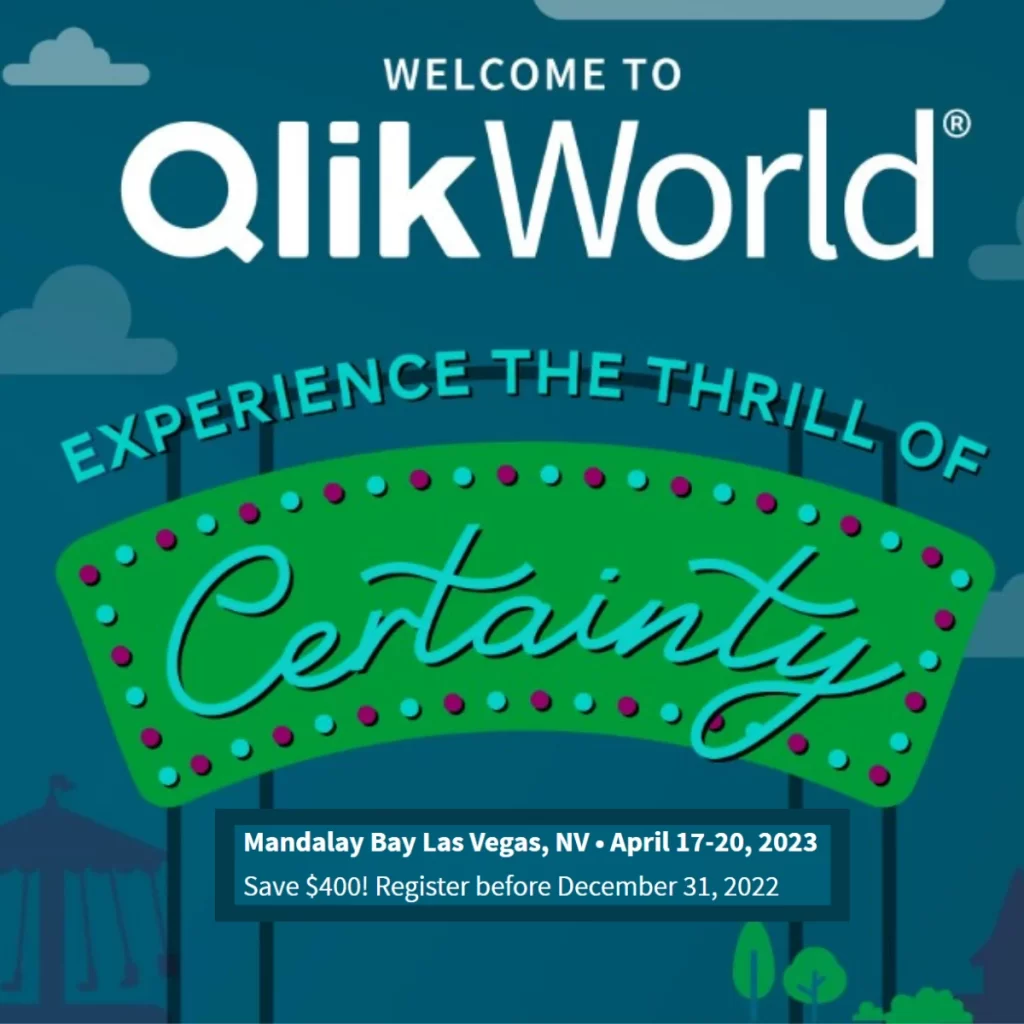 After three years of online/regional Qlik conferences, prepare to meet Differentia Consulting in Las Vegas, Nevada, at QlikWorld 2023, Qlik's global user conference, from the 17th-20th April.
Qlik is back on top form as they ready themselves to return to real-world conferences, with QlikWorld 2023. Next year's QlikWorld conference will continue the tradition of showcasing the latest Qlik news and features. It will deliver incredible value to delegates and offer networking opportunities as well as the chance to spend time with the Qlik ecosystem of vendors that occupy the vendor showcase.
The Qlik product roadmaps offered at these conferences have always been invaluable, and come early enough in the year to inform your data strategy for quarter two and beyond. The conference will also feature presentations from an impressive roster of Qlik speakers, as well as a range of industry experts.
At Differentia Consulting we expect to see visionary content concerning the future of Active Intelligence, as well as developments related to Qlik Cloud Data Integration, and machine learning.
Registration for QlikWorld 2023 is expected to open on Monday, the 5th of December (check back here on Monday for a registration link).
---
We are excited to see you there, and there are two essential things that you should discuss with us:
Talk to us about Active Intelligence and ESG
Active Intelligence
Come and speak to us to learn about Active Intelligence, or as Differentia Consulting has always titled the subject, Hyper Automation. 2023 is your opportunity to ensure everyone in your organisation can access the data they need, when and wherever they need it.

Together we can stop this concept from being a data pipedream, and instead make it your new business reality.
ESG
Differentia Consulting will be accompanied by our partner, Cyferd who will show you how to be smarter with your Environmental Social Governance (#ESG) compliance using their platform and Smarter.ESG reporting via Qlik. Turn your ESG targets into reportable processes. ESG continues to be an important but difficult-to-manage area in business, in part because it covers a plethora of processes and interactions. This is why you need a platform like Cyferd to help you manage them while being able to record and report all of the details you need.

We look forward to seeing you next year in the USA.
---
Book your place for QlikWorld 2023
Save the date for QlikWorld 2023 (April: 17-20): Register before the 31st of December 2022 and save $400.
Now is also the opportune time to book your flights…