Qlik for SAP
Offering Real-time Data integration World-class SAP Data Analytics
Maximize the value of your SAP data with Qlik's powerful data integration, replication, and analytics solutions for SAP. Deliver live SAP data wherever you need it, from SAP test environments to any analytics platform. And empower people across your business with data analytics that uncover hidden insights they can't find with other analytics tools.
SAP customers suffer from similar problems with their systems, the most prominent of those being not having centralised, accessible information, quickly and accurately. Qlik solutions can be seamlessly integrated into an SAP environment. Problems previously associated with complicated and complex SAP systems are completely overridden with the implementation of Qlik solutions. SAP  customers augment the business value of their SAP data with the speed and power of Qlik solutions, for more employees and collaborating supply chains and business partners.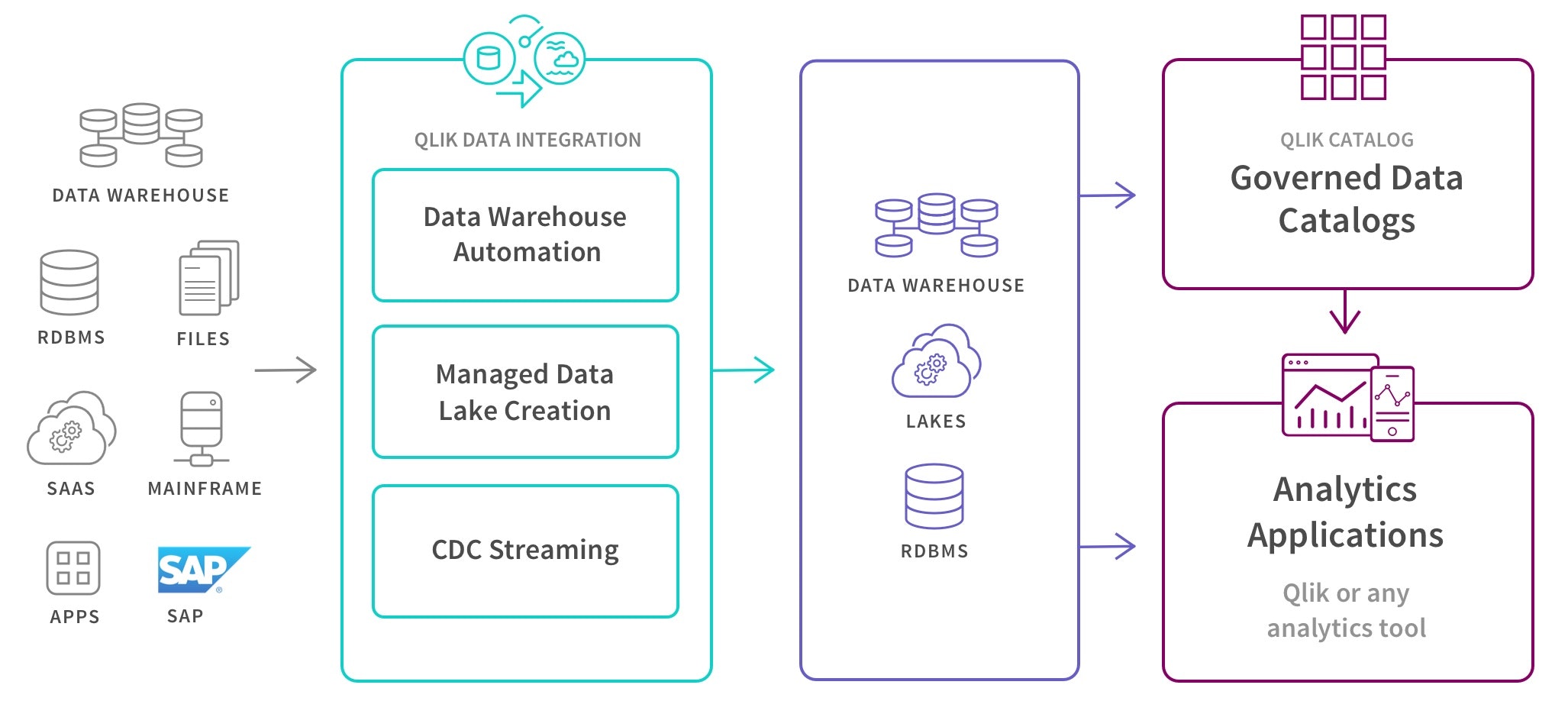 Why Qlik for SAP?
With Qlik the possibilities are limitless, information is accessible at the touch of a button, and is constantly updating. Qlik has fast-track connectivity into SAP, it brings you focus and measurement tools to your fingertips.
Qlik rapidly removes misunderstandings and the wasted effort of compiling complex and time-consuming reports. Qlik is suitable for all levels of analytics within your company; from high level down to diminutive data. Qlik can also streamline and improve SAP test data and enable a wide range of SAP analytics use cases with its powerful and flexible data integration platform.
Qlik complements SAP and can offer you a centralised and democratised data pipeline and reporting solution across the whole company that is easily and quickly implemented; deployed via SaaS, Cloud and on-Premise, allowing for more informed decisions to be made faster.
Benefits of using Qlik Analytics with SAP
Qlik delivers power and simplicity without the cost or complexity of traditional BI tools through the following:
Flexibility to combine data sources
Qlik's associative model easily combines data from SAP ERP, SAP BW, and HANA together with data from non-SAP systems into powerful Qlik Sense applications. Graphical, wizard-based functionality supports multiple data sources and numerous file types.
Confidence in using certified interfaces
Qlik gives customers the added assurance of SAP certification when they visually analyze critical information from their SAP system.
Improved productivity and a fast development cycle by reusing SAP components
Qlik Analytics' many SAP connectors paired with SAP's underlying database being the same across all organisations, enabling the same code to be used across SAP implementations. This enables organisations to reuse business logic and leverage investments they have already made in SAP components such as HANA views & tables, BEx queries, DSO / ODS objects, ABAP reports, SAP queries, and SAP extractors. With Qlik, this is a repeatable solution that's possible to 'plug and play'.
Enabling a data literate organisation
Qlik offers a governed self-service capability that empowers users to build their own visualisations easily, even with limited coding experience.And with little or no IT support needed, everyone is more productive.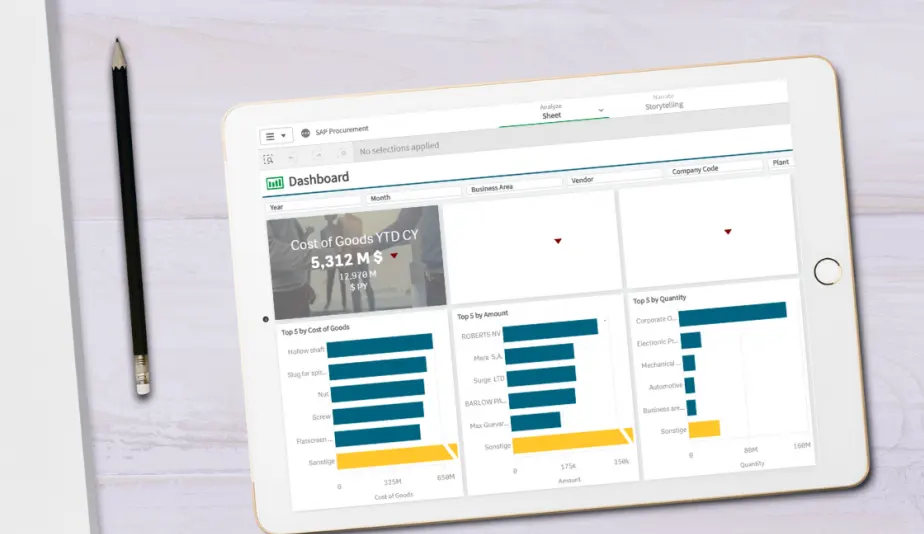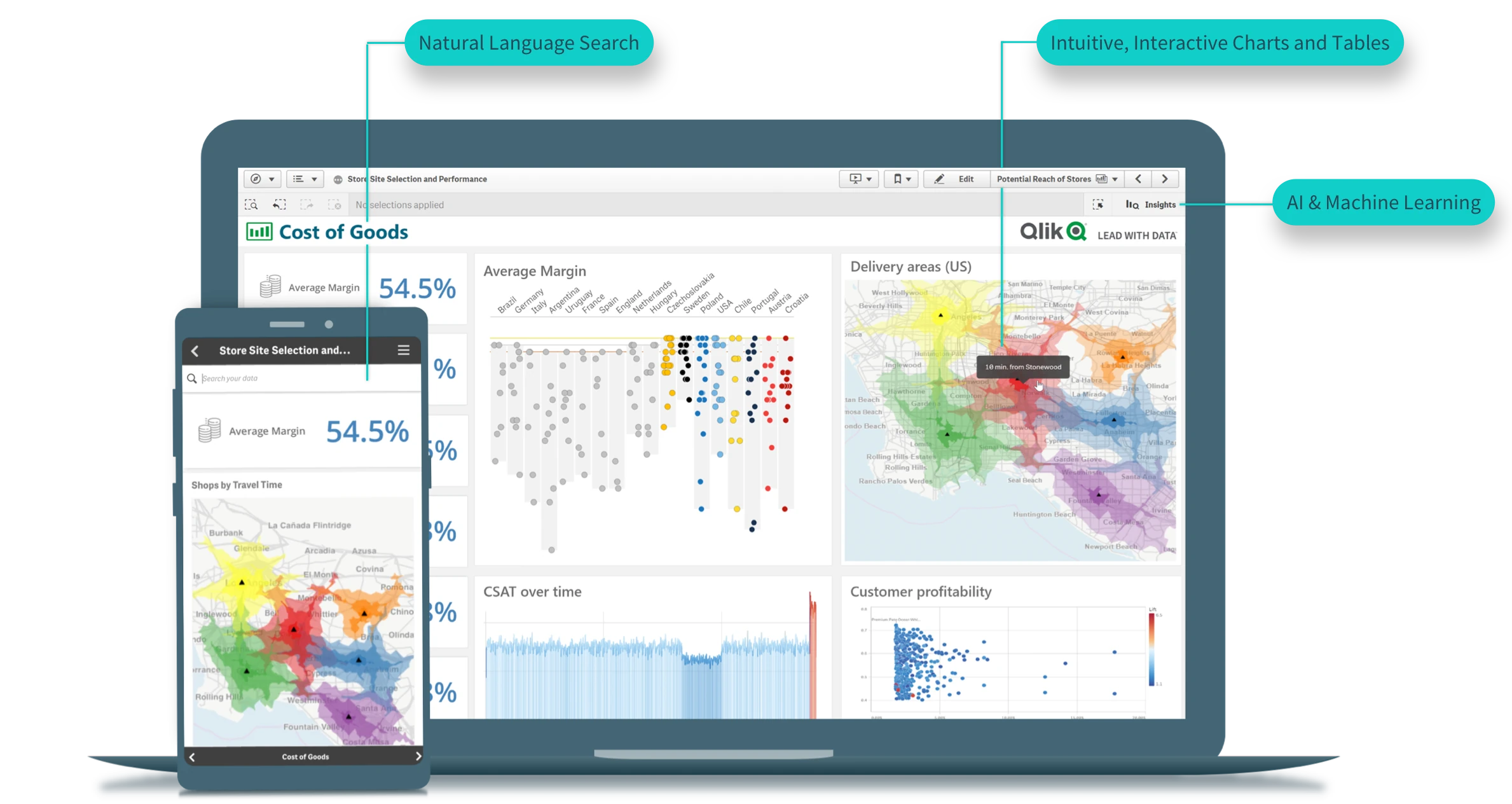 Qlik Self-Service Analytics: What it means, why it matters, and how it works
Self-service analytics provides SAP and non SAP users across your business the ability to gain insights from their data, even if they don't have analytics expertise. By giving end-users the tools they need to access, visualize and explore their data, design dashboards and run reports, your IT teams, analysts and data scientists can focus on more critical strategic projects.
Success stories:
Thousands of SAP customers globally use Qlik to integrate and report over SAP data.  Often combining with data from other data sources including other instances of SAP, Salesforce.com etc.
As a company that uses SAP you need to consider the following questions:
Do you have a management dashboard that is constantly updating?
Can you easily see what is happening in all areas of your business?
If the answer to the above questions is no, then consider the next two questions:
Are you having trouble centralising information and ownership in real-time?
Would you like to create data transparency across your company and improve data governance for decision making?
If the answer to the above questions is yes, then you need to consider Qlik for SAP.
Start your Analytics journey with Smarter.BI Applications
To understand how you can #BeDataBrilliant with #SmarterBI solutions powered by the Qlik Data Analytics Platform to help your business transform and gain competitive advantage by delivering Operational Intelligence supporting decision making get in touch today.
Call us on +44 1494 622 600 or email [email protected]