#CyberHygiene – Cyber Security Rating
Cyber Security Rating for Third Party / Vendor Risk Management Strategy
COVID-19 Notice:- Free #CyberHygiene Cyber-Security Checks for Frontline Service Providers
During this pandemic, Differentia Consulting and Databox 360 will support Frontline Service providers with free #CyberHygiene score checking, and 50% off an annual subscription for #CyberHygiene Essentials and Plus. Frontline Service providers that require #CyberHygiene Enterprise, this will be delivered at non-profit rates (i.e. 30% fee reduction).
#CyberHygiene – Cyber Security Score for Data Supply Chains
#CyberHygiene – Cyber Security Score for Data Supply Chains delivers a compelling extension to your capability to monitor measure and manage your data supply chain's Cyber Security or #CyberHygiene score, by exception. By mapping public facing domain information our #CyberHygiene application can help you decide whether you want to do business with a supplier or not.  Further you can measure exposure to cloud service providers based on the infrastructure and services that they use. With the power of Qlik an onsite version can also be deployed that can be enriched to offer a complete domain scoring solution. Covering the digital footprints of products, brands and supply chains. Creating insight that can be acted upon.
Manage & Protect your Digital Reputation
Differentia Consulting has partnered with Databox 360 to offer combined #CyberHygiene dashboard products via their respective channels. These dashboards will assist CEOs to reduce cyber security risk, insurance premiums, and importantly maintain brand reputation by monitoring their cyber well being.
---
Our #CyberHygiene Offerings
#CyberHygiene Essentials (Your Domain)
#CyberHygiene Plus (Your Digital Supply Chain)
#CyberHygiene Enterprise (Integration with Vendor Management)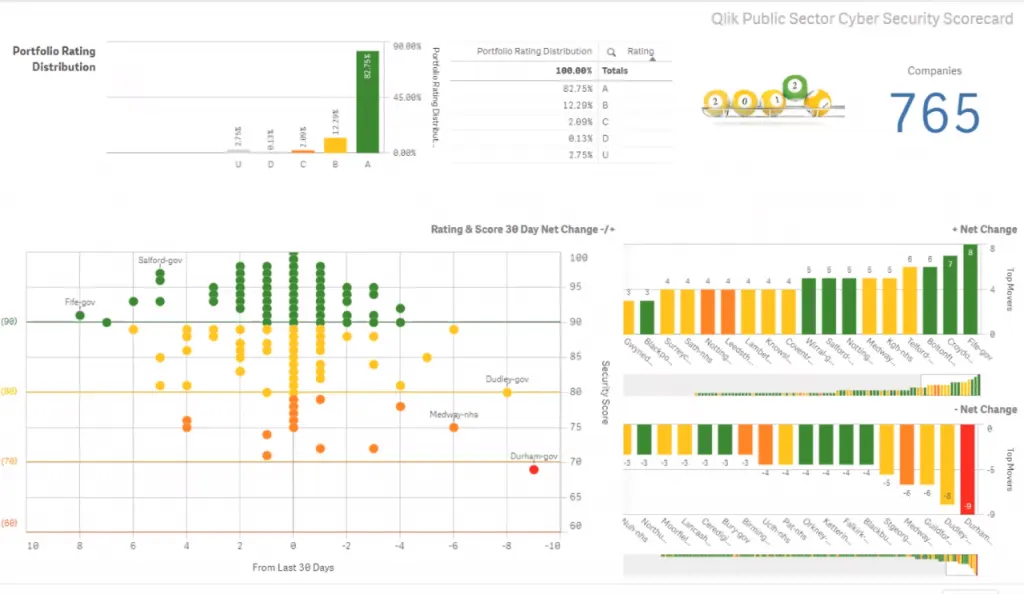 #CyberHygiene – UK Gov Sector Feb 2020
The UK public sector has been the subject of many well documented cyber attacks and as such significant investment has followed to ensure that the data of citizens is less exposed.
We can see from the chart that of the 765 domains included in this analysis that there is still more work to do, with a spread of domains that have scores that are below 90. There are some clear outliers and also plenty of domains that have for the 30 days prior to the data was captured seen their scores move significantly. Not always in the right direction.
Of the outliers the work required to bring about a level of protection inline with the other service providers is minimal however the risk of not doing so is high. Typically email sender SPF Records and Web Page header security records are missing. Combined they create a high risk and need to be addressed with urgency.  It will be interesting to see how the scores improve.
Vigilance is key to protecting Your Data
By using Qlik Intelligent Alerting persons can be notified as soon as there is any significant change in the score in any part of your data supply chain. Be notified in an instant so that immediate remedial action can be taken. Whether internally on your domains or to advise one of your key vendors that they need to take action. In doing so the whole supply chain is protected.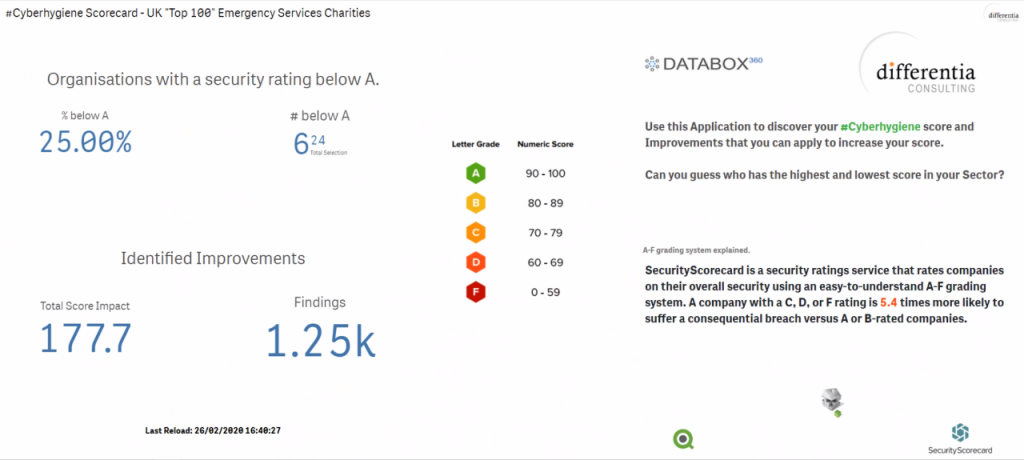 #CyberHygiene – CEO responsibility
CEOs have a responsibility to shareholders to ensure that businesses are able to operate. For this to be taken seriously there has to be a greater adoption by all companies of the need to monitor their digital health and well-being, to protect reputation and shareholder value.
Differentia Consulting is working with its partners, insurers and security experts, to share such capability. We can enable you to monitor and measure your entire Digital Supply Chain in ways that you need to with a #CyberHygiene-Dashboard reporting and alerting service, that monitors the scores, security ratings, and the health of supply chains that deliver your products or services. Enhanced services are available.
#CyberHygiene Enquiry
Please complete this form for your free #CyberHygiene score check for your domain. Alternatively, let us know how we can help you.
Start your #CyberHygiene journey
with Differentia Consulting
To understand how #CyberHygiene scoring can help your business get in touch today. 
Call us on +44 1494 622 600 or email [email protected]