Qlik for Esri
Are you an ESRI user? Discover your business like never before
The integration of Qlik and geographic visualisation using ArcGIS from Esri allows you to see your business in new ways. Deeper insight into your business information can drive operational efficiency, improve return on investment and comply with ever-changing regulatory reporting requirements. Qlik's unique in-memory associative technology lets you interactively explore your data with complete freedom.
Qlik enables you to ask questions about your business which previously could not be answered, it allows you to reveal new associations with rapidity, resulting in better insight and more informed decision making. Combining Qlik with graphical information extends this further, allowing you to visualise your data like never before.
Improve the depth and speed of data visibility into ArcGIS from Esri. Empower workers with the quick business answers needed to manage and optimise business performance.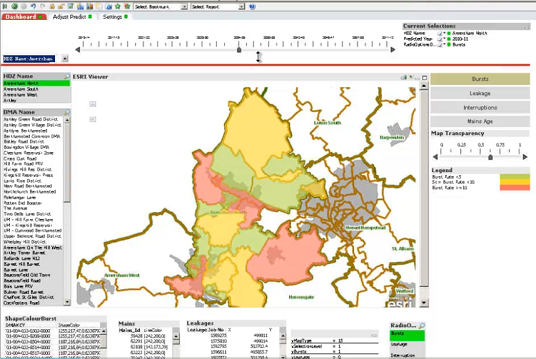 Visibility Guides Better Business Decisions
Whenever Esri users need to go deeper into their data, they must rely on spreadsheets or the complexity and costs of a BI product stack. In contrast, Qlik, through its unique, in-memory associative technology, delivers instant data visibility into ArcGIS quickly and affordably for all of your business and technical users in a single solution.
Using Qlik integrated to ArcGIS Esri users worldwide can improve :
Asset management
Financial reporting
Regulatory reporting
Health & Safety and Environment
Resource Management
Project Reporting
Project costing
Sales analytics
Debtor management
Capital investment
Speed of thought analysis
Associative Query Logic (AQL) is the visionary, patent-protected technology which sets Qlik apart from traditional BI tools.
Millions even billions of lines of data can be pulled from multiple sources and analysed in real time, enabling Qlik users to interactively explore their data.
Imagine a world where you could drill down from an organisation-wide view to single transaction level in a matter of clicks. A world where you were able to get answers to questions you hadn't even thought of. Qlik makes this possible. Its associative technology fuels the creative, non-linear thinking that generates ideas and helps businesses stay dynamic and responsive in unpredictable conditions.
Business Discovery is a whole new way of doing things that puts the business user in control. Unlike traditional BI, where just a few people are involved in insight creation, Business Discovery enables everyone to create insight. It's about workgroups, departments, and entire business units having access to the data they need to make better decisions. With Qlik, businesses can take insight to the edges of their organisation, enabling every business user to do their jobs smarter and faster than ever. Qlik enables all users to create tailored insights that meet their unique business needs and timelines.
Read more on our connectors:
K4 Analytics Data Entry for Qlik and Esri
Start your Esri Geo-Visualisation Analytics journey
with Qlik Analytics
To understand how Smarter.BI powered by the Qlik Data Analytics Platform can help your business get in touch today.
Call us on +44 1494 622 600 
or email: 

[email protected]
Request more information or a demo