Active Intelligence with Qlik
The demands of the digital economy are driving needed change in the approach to modern Business Intelligence (BI). The new paradigm sets out to overcome the shortcomings of traditional, passive BI by delivering a state of continuous intelligence from real-time, up-to-date information designed to trigger immediate actions.
The Challenge of Traditional Business Intelligence
The passive approach of traditional BI can't handle today's data-driven demands.
In the digital economy, real-time agility has become essential. The faster an organisation can respond to events as they evolve, the better it can compete. That means arming people and systems with up-to-date, real-time information and analysis in order to optimise every business moment.
Traditional BI can't stand up to those demands. It takes a passive approach through the batch loading of preconfigured, historical data sets that represent the past in an effort to predict the future. And what about the ability to understand and take informed action at the most important moment — now?
Simply put, traditional business intelligence solutions were not designed for optimising real-time decision making and actions. Today's organisations need a much more dynamic relationship with information. One where data has high business value because it reflects the current moment. And one where information flows continuously into everyday processes, empowering users to engage with it in intuitive ways at any time — creating in-the-moment awareness about every aspect of the business and the market.
Introducing Active Intelligence
What is active intelligence?
Qlik defines Active Intelligence as:
"A state of continuous intelligence where technology and processes support the triggering of immediate actions from real-time, up-to-date data."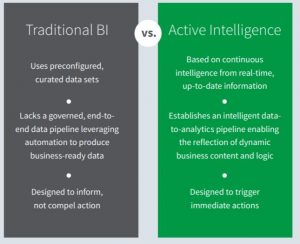 Intelligent data analytics pipelines
Traditional BI comprises a series of solutions for data ingestion, integration, delivery, analytics, collaboration and storytelling that hasn't been brought together into a unified pipeline. Active Intelligence closes the gaps among those components, creating a multidirectional conduit for the continuous flow of data and information across the organisation. This intelligent data analytics pipeline enables fresh data to reach users almost as soon as it comes in the door.
Consolidates data from multiple data sources
Active Intelligence integrates data of varying types and forms, combining current and historical data to create dynamic sets that increase the opportunity for uncovering unique, surprising and actionable insights.
Creates data movement and transformation automation
Leveraging technologies like real-time change data capture, data warehouse automation and data lake creation, Active Intelligence vastly accelerates the movement of data across the organisation by automating processes like data integration and transformation.
Preserves data lineage
To keep data governed, transparent and trustworthy, Active Intelligence uses metadata to preserve data
lineage through the pipeline.
Delivering real-time, up-to-date information designed to trigger immediate actions
Active Intelligence makes the most up-to-date information available in the most important moment: now. Whether driving automated metrics and insights within dashboards or embedding them directly into machine-driven processes, Active Intelligence combines data at rest with data in motion, reflecting the pulse of the data and delivering insights in the business moment.
Collaboration across the entire data pipeline
The historical gap between data producers and consumers is closed, enabling a range of roles to work together to both define and enhance needed data sets.
Embedded, always-on intelligence
Because Active Intelligence is executed moment-to-moment, data analytics platforms support a full range of analytics use cases that can be embedded directly into business and machine-driven processes.
Augmented analytics with artificial intelligence and machine learning
Data analytics are designed to enhance human intuition, via augmented analytics using Artificial Intelligence (AI) and Machine Learning (ML) algorithms to surface real-time events and predictions for deeper analysis and collaboration — or to drive immediate actions.
The Top 5 Benefits of Active Intelligence
Active Intelligence closes the gap between what's happening in the business right now
and the information and insights available. As a result, it introduces a tremendous opportunity for boosting innovation, accelerating value and sharpening competitive edge.
With Active Intelligence, organisations can:
See and immediately respond to trends, connections and shifts within the business and in the market.
Reinvent strategy, processes and products for the digital world, even on a moment-to-moment basis.
Collaborate beyond historical barriers by bringing together data producers and data consumers.
Accelerate business outcomes by increasing agility and efficiency in every area of operations.
Gain trust in the insights uncovered and actions taken.
The business outcomes of Active Intelligence Active Intelligence in action
Active intelligence can be operationalised at many levels – from customer experience, fraud detection and
Internet of Things (IoT)-enabled manufacturing to any process enhanced by the ability to respond to what's happening in the moment.
Active Intelligence Example Use cases
Predictive maintenance with IOT
IoT data and 5G technologies power Active Intelligence use cases in manufacturing, utilities and beyond. Realtime and historical data and AI/ML processing can predict and trigger proactive maintenance, driving
peak performance and business continuity.
Emergency planning and logistics
Emergencies are, by definition, real-time, dynamic events. Government and private sector organisations can evaluate current weather and disaster information against operational data to predict conditions and adjust personnel, equipment and processes as situations evolve.
Supply chain optimisation
A supply chain delivers far more value when managed based on current conditions. Combining the latest sales, economic and seasonal data with inventory, logistics and other supply-side dynamics can drive just-in-time decisions that move with the market.
Value-based healthcare
Combining personal health, population and medical condition data could power an Active Intelligence application that instantly processes risk factors against a patient's medical history, personalising complex diagnostics and guiding value-based actions such as early intervention.
Personal customer experiences
Engaging customers with real-time insights build connection, loyalty and lifetime value. For example, customer care reps can personalise issue resolution, and shoppers trying to purchase items that suddenly go out of stock can receive dynamic new offers.
Fraud detection and mitigation
The rise in fraudulent financial activities demands an Active Intelligence-driven approach. Monitoring in-progress transactions to spot anomalies, alert personnel or block transactions as they happen is one-way Active Intelligence is making a big impact in the industry.
Conclusion
Embracing Active Intelligence will put you on the path to more agile business processes, new opportunities, and better customer relationships.
We hope this guide helps you make the best informed choice for your business. Book an appointment or email us at [email protected] or call +44 1494 622600 for advice on your specific requirements.
Start your Active Intelligence journey today.
Differentia Consulting provides #SmarterBI solutions offering full life cycle services and complementary business discovery solutions.