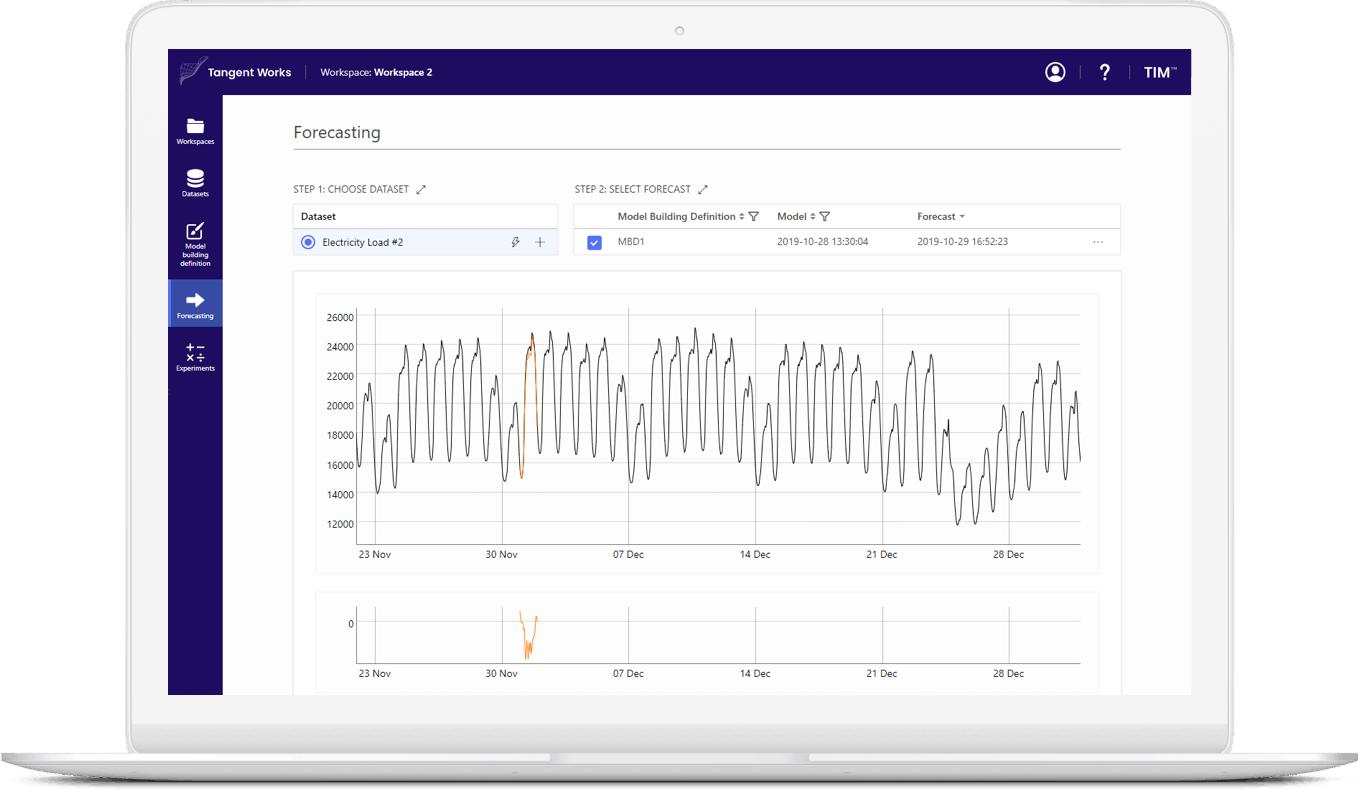 About Tangent Works
Tangent Works was founded in 2014 by a team of data scientists and mathematicians who believed in the power of predictive modeling for optimizing operations and reducing costs, but found that the existing methods were far too complex for broad adoption.
Tangent Information Modeler, TIM
Building and refining accurate predictive models was a laborious, iterative task that required a combination of domain and data science expertise and weeks/months of effort. There just aren't enough data scientists in the world to meet the demands of a broad range of industries for which accurate and timely forecasts are essential to their competitiveness.
The founders' original concept was simple- what if we could build the model automatically by analyzing historical time-series data, including all the possible influencers, and figure out which data is relevant to the predicted output, in what combinations, over which time intervals. From that vision and a breakthrough architecture based on a field of mathematics known as "information geometry", the Tangent Information Modeler, TIM, was born.
TIM has since been recognized as a winner in multiple competitions, including the Global Energy Forecasting Competition, GEFCom 2017, and the 2017 ANDRITZ Hackathon, which was focused on optimization and predictive maintenance for IoT applications.
TIM's Mission
TIM's mission is to de-mystify predictive modeling and anomaly detection and make them accessible and productive for a broad range of users and use cases.
What TIM delivers
TIM InstantML delivers data for BI tools such as Qlik to turn into business insight to act upon.
Cost savings
You do not need an army of data scientists to deploy TIM further TIM can complement your existing investment in predictive tools.
Forecasting & Anomaly Detection:
Faster, more accurate and more explainable with TIM
Drive business value from predictive analytics
Take informed decisions and improve processes
Machine learning applied
Challenges:
Organisations make insufficient use of predictive analytics and hence miss out on business value.
There is a huge struggle to move AI and ML projects to production.
Most organisation still lack the necessary skills to leverage ML to bring business value.
Application leaders fail to see and respond to the opportunities of using a time series focused approach to predictive analytics.
Changing data and changes in business environment can cause tremendous data drifts, and render masses of ML models obsolete.
Traditional Auto ML does not come up with the answers organisations hoped to get.
How can you benefit from Predictive Analysis?
Time series data is everywhere. This makes predictive analytics applicable in many industries. We provide an overview of the use cases of where we believe you can benefit from predictive analytics.
Control Towers
Asset Failure Analysis
Supply Chain Strategy Planning
Asset Health Predictive Maintenance
Asset Health Monitoring
IoT Instrument Failures
Mortgage Prepayment and Credit
Rolling Stock
Marketing and Advertising
Bicycle Sharing
Sales Planning
Demand Forecasting
Energy Consumption, Production and Optimisation
Add Tangent Works TIM to your Qlik Sense deployment
Differentia Consulting is an Tangent Works TIM reseller.