Qlik for NHS
Qlik Analytics for NHS (Government Healthcare)
With the modernisation of Electronic Health records, many government healthcare agencies are trying to integrate medical information from multiple sources. With Qlik, these agencies can consolidate data from across source systems in a single view that aggregates patient information and helps them to quickly identify a path of care.
Decision Support for Healthcare Providers

More than 1,000 healthcare providers spanning hospitals, nursing and residential care facilities, and ambulatory services worldwide use Qlik Analytics to overcome Business Discovery challenges and build a true clinical decision support system.
Transforming reporting and analysis at the NHS with Qlik Analytics
In the UK, Qlik Analytics is used by more than 162 NHS Trusts to analyse and report on data from multiple critical systems. It empowers non-technical users to get the answers they need to be more productive, more efficient and more effective, and promotes total visibility across all functions and departments, saving time and money in all areas.
Clinical Solutions
Qlik Analytics substantially aids clinicians and managers with their day-to-day tasks by providing reliable, up-to-date information on a range of metrics. Drawing information from disparate sources and presenting it on-screen for real-time analysis,
Qlik Analytics applications allow users to drill down to individual patient level for a clear and detailed view of performance. The multi-layered security model allows access to be restricted by rank, role or department, maintaining absolute patient data confidentiality while ensuring that everyone has access to the information that supports their function.
The result?.. Patterns and trends can be seen at a glance. Problems can be flagged early.
Qlik Analytics compels users to take action by arming them with the facts. Trusts like Cambridge University Hospitals, Newham University Hospital and Liverpool Heart and Chest Hospital are all benefiting from improved clinical reporting and dashboards thanks to QlikView.
Example clinical applications include:
18-Week Wait Time Analysis
Resource Planning
A&E Performance Monitoring
Theatre Management
Patient Pathway Tracking
Financial Solutions
Qlik Analytics is indispensable as a tool for pulling disparate data together to create fast, accurate reports that demonstrate a single version of the truth. It delivers valuable and dramatic insights into general financial performance, profit and loss improvements, patient level costing / service line reporting and suppliers all from one platform, and in minutes, not days.
Qlik Analytics builds executive dashboards from transaction level data so users can go from high level costs to individual line item detail in seconds. This ability to truly understand what makes up the high level numbers enables the right decisions to be made more quickly and with more certainty than ever before.
The North West NHS Collaborative Procurement Hub deployed QlikView to consolidate data from 45 financial and purchasing systems a project which took less than 12 weeks to implement. QlikView has since delivered procurement cost savings of £42 million and freed up hundreds of hours previously spent on manual reporting and analysis. You too can expect ROI in a matter of weeks.
Typical financial applications include:
Patient Level Costing / Service Line Reporting
General Ledger, AP and AR
Suppliers analysis and procurement dashboards
Cost Centre Analysis
With Qlik Analytics, NHS Trusts can:
Improve patient care with shorter wait times by synchronising resource scheduling with patient activity
Massively improve theatre utilisation, with complete visibility of procedural and operational bottlenecks
Reduce operational costs from analyses of resource utilisation, materials stocking levels, purchasing options, and supplier performance
Ensure compliance with national targets by delivering on key operational, patient safety, and quality of care metrics
The NHS Qlik Analytics Customer Experience
Discover why more than 162 NHS Trusts spanning hospitals, PCTs, Procurement Hubs and SHAs have turned to Qlik Analytics to overcome information challenges and improve performance
Hashtags: #SmarterNHS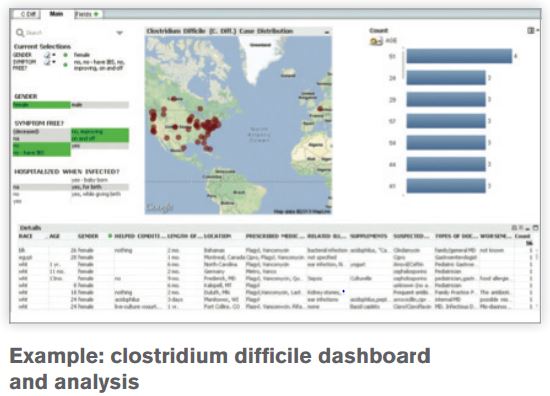 With Qlik Analytics (Qlik Sense and QlikView), healthcare providers can:
Improve patient care through a clinical decision support solution that empowers the joint clinical care team to securely share clinical data, analysis, and insights
Improve patient safety from immediate access to consolidated diagnostic information, reducing opportunities for medical errors
Ensure trusted and timely regulatory compliance by delivering on key operational, patient safety, and quality of care metrics
Provide a single, trusted view of hospital operational performance across a variety of KPIs from multiple underlying data systems
Reduce the variation in care between clinicians by enhancing visibility at all levels of the care pathway, ensuring consistency of care for all patients
Using Qlik, government healthcare providers are reducing the length of patient stays, holding down costs, and reducing re-admissions. Researchers are improving the quality of clinical trials by drilling more deeply into electronic records and spotting anomalies. And, providers are making better, more objective decisions faster using a larger evidence base, driving improved performance and care delivery and saving more lives.
Start your Data Analytics journey with Qlik
Differentia Consulting are a Qlik Elite Solution Provider offering full life cycle services and complementary business discovery solutions.