Property Management
Qlik for Property Services and Facilities Management
Current slow economic performance in the UK has been passed on to values in the UK commercial property sector through declining occupier demand. This is one example of how the difficult economic climate has completely changed the dynamics of the commercial property and facilities management sector. With the implementation of Qlik you will be able to quickly provide analysis and information on real estate performance across global markets which in turn will allow you to determine how to maximise profitability in your business during these difficult economic times.
With Qlik for property management the possibilities are infinite, information is accessible at the touch of a button in an easy to understand and simple to use manner. Qlik rapidly removes misunderstandings and the wasted effort of compiling complex and time consuming reports. Qlik is suitable for all levels of analytics and will allow you to discover your business like never before. Qlik for property management provides rapid, powerful and visual, in-memory business analysis without the restrictions, price or complexity of conventional Business Intelligence.
Is your poor reporting stopping you from optimising profits from your property/ facilities management business? Are you finding it difficult to have a clear view of your business in terms of analysis and reporting in a clear and concise manner? Then you cannot afford to ignore the benefit Qlik can bring to your business.
With Qlik for Property Services and Facilities Management you will be able to:
o View Clients in summary or detail format
o View Client statements, documents & arrears
o Monitor Portfolios and individual manager performances
o Review individual properties and tenancy details
o Monitor and review outstanding rent & service charges
o Visualise your property base geographically
and much more, in easy to understand KPIs displayed in graphical format.
The points listed above are all areas of business pain within your industry, and the implementation of Qlik would allow insight into these pain points, allowing you to have clear visibility, in real time, at the touch of a button, giving you instant answers. Qlik will transform the way you see your business allowing you access to accurate, meaningful and timely information on which to make better, informed business decisions.
Discover your Business and define your business needs with minimum investment and rapid ROI through the deployment of Qlik.
Success Stories:
International Office Facilities organisation delivers a scalable and flexible performance solution with QlikView in the cloud:
We have deployed QlikView in three core areas Sales, Operations and Finance. The rapid growth of our business along with our innovation means we must have scalability and flexibility, and its vital we use a performance solution that can easily cope with a data-driven business with ever increasing data volumes. Innovation also means we have to monitor new products and services, and manage constant changes to our data models quickly. Specific challenges we face are the addition of new countries, new products and services, changes to pricing and commissions, as well as organisation changes all within a matter of months. The team all has experience of QlikView and trust its business-critical functionality and delivering value to the business. As such the applications we are building are key enablers to deliver the information, insight and intelligence the business needs in a fraction of the time of our old platform, which translates into improved performance and a happier business. Simon Asplen-Taylor, Global Head of BI
DTZ make a difference: Adopting QlikView Business Discovery platform to move from paper to Web Based Self Service delivery to satisfy client reporting needs: watch video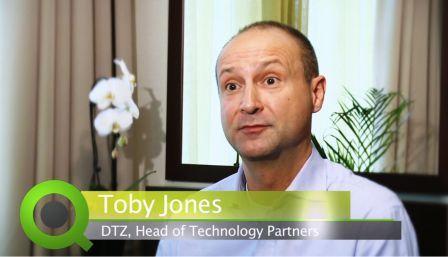 Case Study:
DTZ QlikView Customer Success Story Mar 2013: view online
Start your Property Management Analytics journey with Qlik
Differentia Consulting are a Qlik Elite Solution Provider offering full life cycle services and complementary business discovery solutions.
Call us on +44 (0) 1494 622 600
or email

[email protected]