Manufacturing
Make faster, more profitable decisions. Operate leaner, smarter and more efficiently. Gain real-time visibility across the entire supply chain. Measure and increase operational effectiveness. Collaborate better to enhance business agility.
Gain real-time visibility across your entire value chain. Eliminate the wait to make business decisions. Collaborate more closely with partners and key customers. Improve business agility for intelligent, demand-driven manufacturing.
Operate Leaner, Smarter and More Profitably
Lessons learned during the global economic downturn have driven manufacturing companies to operate leaner and smarter. Manufacturing companies are shifting to demand pull and made to order business models. Market success depends on a new kind of business agility that responds rapidly to demand changes, supply chain risks and fluctuating energy, commodity and transport costs and enables new product innovation.
Using Qlik Sense SaaS and on-premise, QlikView, leading manufacturing companies worldwide can:
Synchronise CRM, production, supply, distribution, and R&D processes for demand-driven manufacturing
Mitigate supplier, compliance and cost volatility risks
Increase effectiveness of process improvement methodologies (Six Sigma, Lean, Activity-Based Costing)
Implement real-time Data Pipelines for Supply Chain performance management across business functions (Demand Planning, Procurement Analysis, Supplier Performance, Inventory and Warehouse Management, Logistics and Fulfilment Analysis)
Increase business agility with quick, measurable success
Manufacturing companies today require more flexible business models and real-time decision making intelligence. Qlik delivers measurable success quickly with no risk, minimal investment, and without having to commit substantial resources. Anyone within your business, as well as your suppliers and distributors, can use Qlik, with applications customised to each user's needs.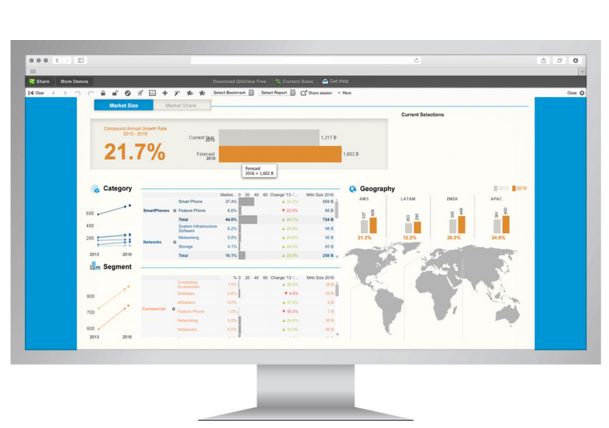 Demand-driven business runs on real-time information
Manufacturers historically wait weeks for updates to management and analytical reports. Qlik removes the barriers to working with real-time information through in-memory, associative technology that enables entire workforces to make the timely, accurate decisions required for demand-pull, made-to-order and configure-to-order manufacturing
Automotive, industrial and aerospace
Collaborate efficiently with value chain partners and shorten the time to market. Reduce risk and product development cost. Drive after-market services, expand into new markets and gain real-time visibility to improve operational efficiency.
Improving warranty agility for Business Success (PDF)
Industrial Manufacturing
Reduce risks, costs and threats to margins. Increase profits on core products, aftermarket sales and product line extensions. Expand into emerging markets efficiently. Be first to respond to demand changes and capture new market opportunities.
Reduce Costs, Increase Revenue Streams
Manufacturers of industrial machinery and components face pricing pressures and shrinking product lifecycles from global competition and recession fallout. To reduce costs, companies are shifting strategies to minimize inventories and allow market demand to drive production and supply chain processes. To increase revenue streams, companies are expanding aftermarket sales and entry into new markets.
Using Qlik, leading industrial machinery companies worldwide can:
Improve agility for demand-driven product and aftermarket sales
Keep pricing aligned with leading cost indicators to protect margins
Unify and streamline order-to-fulfillment processes
Improve enterprise governance of risk, safety and compliance programs
Ease administrative and IT burdens associated with data analysis and reporting across business functions

The Qlik Customer Experience
Discover why more than 500 industrial machinery and component manufacturers worldwide have turned to Qlik to overcome their information challenges and improve their business and supply chain performance.
Chemicals
Drive sourcing and procurement efficiencies. Measure and monitor plant utilisation. Manage asset infrastructure more effectively. Lock in future revenue streams by bundling value-added services with products. Improve enterprise governance of risk, safety and regulatory compliance.
Top Solutions in Supply Chain (PDF)
Mill products
Manage performance in highly regulated, global markets. Gain real-time visibility across the extended manufacturing value chain. Drive sourcing and procurement efficiencies. Synchronise operational processes using real-time production insights to maximise asset efficiency.
The Qlik Customer Experience
Discover why more than 2,000 manufacturing companies worldwide have turned to Qlik to overcome their Business Intelligence (BI) challenges and improve their business performance.
White Paper: User-driven Business Analytics Transform Manufacturing Operations (PDF)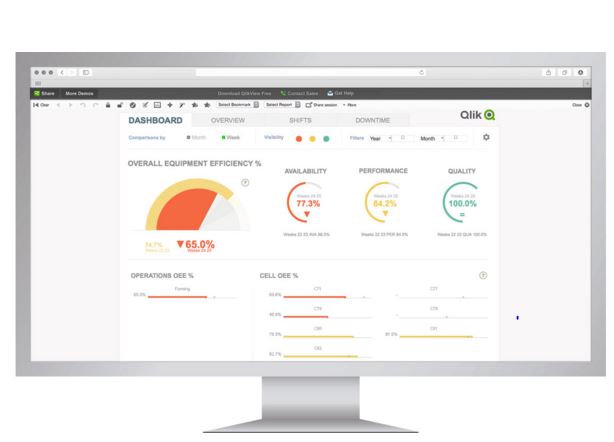 Start your Manufacturing Analytics journey with Qlik
To understand how the Qlik Data Analytics and Data Integration Platform can help your business gain a competitive advantage by showing you the whole story in your data get in touch with Differentia Consulting, a Qlik partner that provides long term commitment to the clients we work with.
Call us on +44 1494 622 600 or email [email protected]
Request more information or a demo