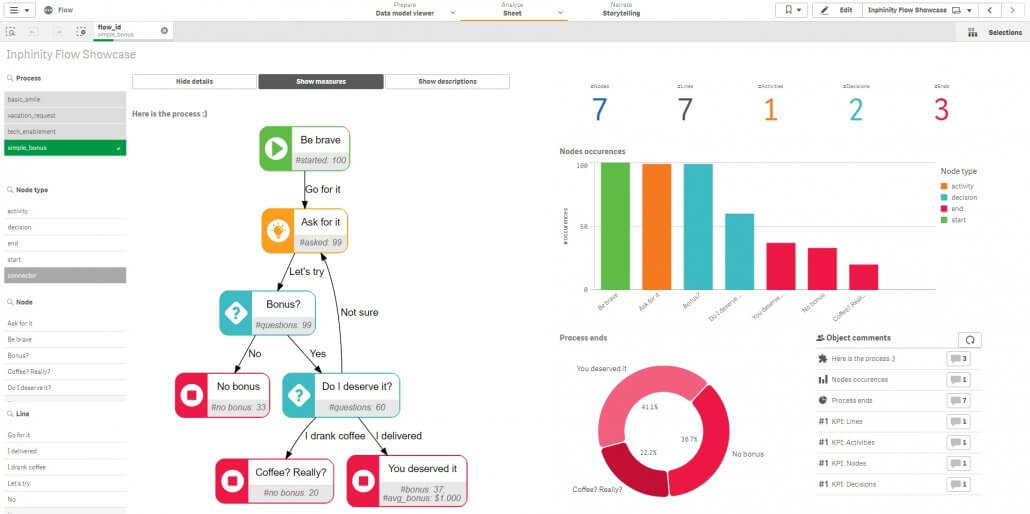 Inphinity Flow for Qlik Sense
Inphinity Flow is a self-service Qlik input extension certified by Qlik as Trusted Extension (TED). As an Inphinity Suite extension it allows you to visualise, monitor measure and manage your processes directly in Qlik Sense. A pioneering, revolutionary Qlik Native extension. Visualise, Explore and Understand your Processes in Qlik Sense. Developed by Inphinity, as part of their EPPM Suite.
Inphinity Flow for Qlik Sense self service input extension:
Context
Processes are everywhere in an organisation and are key to unlocking intelligent decision making. Inphinity flow facilitates visualisation, exploration and comprehension of all processes in Qlik Sense. No more siloed data analysis.
Understanding
Understanding processes within a company is a crucial part of data literacy. It enables employees to connect the data with activities and understand the real impact of their data-driven decisions. No more expensive and complex tools.
Actionable
Empower employees and increase their value by enabling them to take actions where the data is, creating an environment where all actions have context. No more write-back without a workflow.
Unlocking opportunity
Processes are often 'locked' in a blizzard of source systems and informal practice. Inphinity Flow releases the untapped opportunity to visualise, measure, streamline, and improve business outcomes. SIMPLE and FAST, process workflows can be created. Allowing you to collaborate issues, ideas and improvement opportunities across people, process and systems. An organisation's ability to learn, and translate that learning into action rapidly, is the ultimate competitive advantage.
Organisational excellence
A journey of discovery, Inphinity Flow provides the intelligence to optimise your organisational processes and move you towards organisational excellence. Applicable across any industry, through billing, procurement, operations, and accounting, . Inphinity Flow supports a seamless governance and user experience ensuring that collaborating across controls and people has never been easier. Inphinity makes it all simple through it's Qlik native and secure approach.
You do not need an external team or any special skills to implement Inphinity Flow. Everything is ready in a few clicks. As a result of its Qlik-inspired design and customisation in properties panel it is very intuitive for all Qlik users
Qlik's TED Program:
Inphinity is part of the official Qlik TED Program.
The accreditation and seal of approval means more transparency, quality-assurance, and trust for extensions developed by Qlik Partners like us who offer support and regular product updates to subscribed customers.
Qlik's TED Program includes:
Extension Accreditation: Reduces risk of code failure on upgrade, ensures security protocol and data collection compliance, and allows accreditation on additional functionality such as responsiveness and mashup readiness.
Best Practices & Enablement: Detailed requirements documentation, test script creation guidance, monthly webinars, and open feedback channels like Slack.
Testing Tools: Qlik supported automated testing tools, and test script validation with Qlik Sense via a CLI to improve submission quality. Promotion/Marketing: Dedicated TED Developer Partner page, Qlik Branch Developer Event and Marketing campaign promotion (when appropriate), inclusion in QlikWorld conference developer related sessions and promotion.
Assured Upgrades: TED members sign up with a commitment to provide on-going updates to their accredited extensions, as well as ensuring customers can receive support during their use.
Add Inphinity Flow extension to your Qlik Sense deployment
Differentia Consulting is an Inphinity reseller.
Call us on +44 1494 622 600
or email

[email protected]