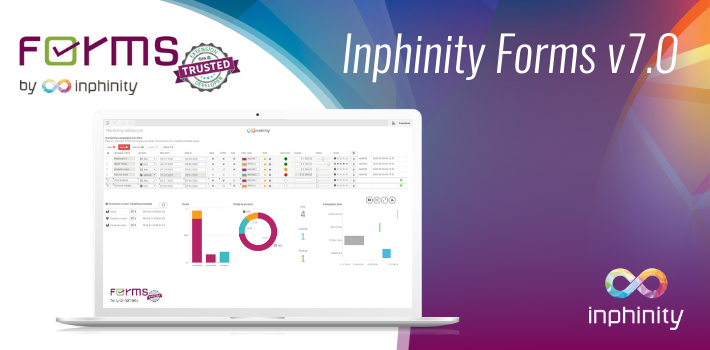 Inphinity Forms for Qlik Sense
Inphinity Forms is a self-service Qlik input or 'Qlik writeback' extension, certified by Qlik as a Trusted Extension (TED). As an Inphinity Suite extension, it allows you to enter your own inputs and edit data directly in Qlik Sense: comments, deadlines, responsibilities, plans / budgets & forecasts / actuals, custom categorizations; such as health, availability to work, action plans, rankings, simulations and much more. Developed with passion together with customers and partners. Inphinity forms
Inphinity Forms for Qlik Sense self service data capture and data input writeback extension:
Allows you to enter your own data directly into Qlik Sense as: comments, deadlines, responsibilities, custom categorizations, action plans, rankings, budgets & forecasts or any other data. Creating benefits of:
Time savings
– fast installation & implementation, no more exports, missing files or data accuracy issues
Minimising errors
– one trustworthy, single source of truth, no copies of files, complete with a full change log
Cost savings
– no need to pay for extensive implementation or buy another tool for another input use case
You do not need an external team or any special skills to implement Inphinity Forms. Everything is ready in a few clicks. As a result of its Qlik-inspired design and customisation in properties panel it is very intuitive for all Qlik users
Inphinity Forms for HR
Inphinity Forms can also improve your current Diversity Equity and Inclusion policies by allowing more governed internal collaboration, without the use of spreadsheets. Further, post pandemic, Inphinity Forms can be used to capture the wellbeing and ability to work of your team. Thus helping you ensure operational effectiveness,
Qlik's TED Program:
Inphinity is part of the official Qlik TED Program.
The accreditation and seal of approval means more transparency, quality-assurance, and trust for extensions developed by Qlik Partners like us who offer support and regular product updates to subscribed customers.
Qlik's TED Program includes:
Extension Accreditation: Reduces risk of code failure on upgrade, ensures security protocol and data collection compliance, and allows accreditation on additional functionality such as responsiveness and mashup readiness.
Best Practices & Enablement: Detailed requirements documentation, test script creation guidance, monthly webinars, and open feedback channels like Slack.
Testing Tools: Qlik supported automated testing tools, and test script validation with Qlik Sense via a CLI to improve submission quality. Promotion/Marketing: Dedicated TED Developer Partner page, Qlik Branch Developer Event and Marketing campaign promotion (when appropriate), inclusion in QlikWorld conference developer related sessions and promotion.
Assured Upgrades: TED members sign up with a commitment to provide on-going updates to their accredited extensions, as well as ensuring customers can receive support during their use.
Add Inphinity Forms extension to your Qlik Sense deployment
Differentia Consulting is an Inphinity reseller.
Call us on +44 1494 622 600
or email

[email protected]
Inphinity Forms – Features
Inphinity Forms File Upload: Attach/Upload a file to your data
Do you have an employee list in Qlik Sense? Do you use write-back for adding comments or saving data about their; skills, goals, bonuses, or certificates? There's will always be something you need to store outside of the Qlik Sense, right? Using Inphinity Forms you can upload (attach) CVs, employment contracts, or certificates for each employee, right within the table, in your Qlik Sense application. Files will be securely stored to the server, according to your specific needs. When you need to open the document, just click on the link in your application. With Inphinity Forms it is that simple.
Using this concept there are many other similar use cases. Such as:- sales orders, legal documents, documentation, schemas, photos, scans… everything. Together with other field types, you can create your own workflow around these documents. Add a checkbox if it is legally correct (and of course data about who and when checked it), traffic light if the manager approves it, date when it should be sent or declined. Inphinity Forms can off a very simple way to manage your Policies and Procedures for example.
Analyse Unstructured Data in documents with Qlik with writeback:
You can use Mole Unstructured Data Connector for analysing the content of all these documents. You can upload a legal document to the specific customer right within their Qlik application. Quickly you'll have many documents – securely saved to your server, assigned to the specific customer, and loaded back (together with their content) into the Qlik app. Able to answers questions such as: "Please John, can you search for all customers I have signed the NDA last year with? I'll also need all the legal documents we have where Qlik is mentioned." What will be the answer? "Yes, sure, give me a second to open the app!"
Add colours to your data
The new field type colour picker allows Qlik Analyzer users to manage field colours.
Adding new rows
Adding new rows is available within the extension. Based upon requirements, choose whether the key should be auto-generated or a user entered value.
Totals of Measures
Using the same approach as you would in a Qlik default table – 'on/off' and selecting the appropriate type of 'total function' for each measure.
Warn users before saving potential incorrect data
Define your own validation rules for each field type that'll be checked against when data is entered.
Qlik-style design improved
Using Inphinity Forms is similar to the Qlik default table with sorting and resizing columns width by drag & drop.

Focus when editing
When entering data, the specific cell is identified, and row is highlighted to reduce input errors.
Change any Qlik default visualization to the writeback with drag & drop
Thanks to the way how we develop Inphinity Forms – by using as many Qlik features as possible – it really is natively integrated with your Qlik app. Change any Qlik default visualization to use the write-back capability with drag & drop:
For more inspiration using Inphinity Forms watch the TechTuesday video series.
Inphinity Forms Troubleshooting Wizard
The wizard allows you to ensure that you have followed the correct procedures before contact your support team.
Download a free trial of Inphinity Forms (see above) to see how it can improve your use of Qlik and avoid the need to keep data outside of Qlik anymore.
Discover Inphinity Suite
Add Inphinity Forms writeback extension to your Qlik Sense deployment
Differentia Consulting is an Inphinity reseller.
Call us on +44 1494 622 600
or email

[email protected]