GDPR References and Further Reading:
Preparing for GDPR
The briefing 28.02.17 (Further Reading-below) covers The European General Data Protection Regulation (GDPR) on cyber security, and highlight the key things that organisations need to know about its implementation, including its impact on how businesses can use data, key tips on how to start preparing for the Regulation, and how to articulate a clear privacy policy.
The UK's economy is underpinned by the ability to analyse and move data. In fact, soaring data flows now generate more economic value than the global goods trade, raising world GDP by approximately 10 per cent over the last decade. As the leading digital economy in Europe, the UK has the most to gain, and conversely the most to lose, from the European data protection landscape.
The ways in which companies use this data and move it across borders is governed by strict data protection regulations. Critically on 25 May 2018 the GDPR will apply to UK law despite the Government's pledge to begin the Brexit process in March 2017. This will provide a wide-ranging new legal framework for data protection regulation in the EU.
Despite the threat of financial penalties for non-compliance with the Regulation, 50% of global companies have admitted that they will struggle to meet its rules unless they make significant changes to how they operate.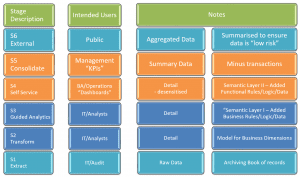 Deploy a Governed Data Access framework with Qlik to assist your compliance process for GDPR.
Both structured and unstructured data is required to comply for GDPR. Differentia Consulting has redefined its Smarter.BI methodology to assist in helping clients comply with structured data compliance by offering a Governed Data Access Framework that consists of 6 stages.