QVSource
QVSource API connectors are optimised for QlikView and many come with demo QlikView documents. In addition to API connectors QVSource offer a general XML/JSON/SOAP Web Connector. Benefits Leverage the power of QlikView to analyse data, extending your investment. Use connectors to get 360° Business Intelligence. Saves time having to go to each individual system. View several charts at once and drill down to areas of interest. Enrich your data further with, say Sentiment analysis. Create/set your own benchmarks and KPIs that are relevant to your business. The data can form parts of another dashboards such as management packs. You can view data offline. Set reload schedules to automatically and consistently fetch data. Better perspective on what's going on.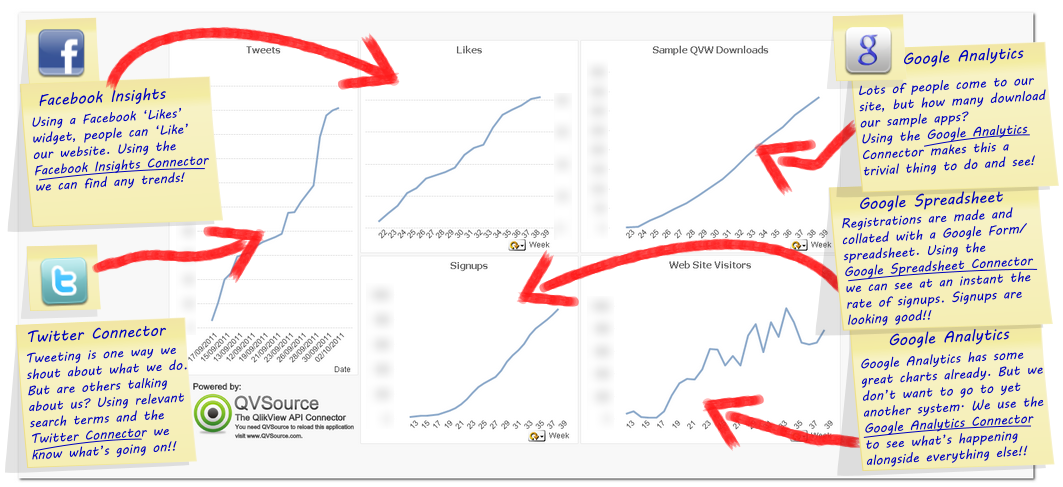 Success Story:
"We have been using QlikView for over two years to report and analyse our internal data but recently purchasing QVSource has allowed us to use an already great tool to monitor and analyse whole new areas for us in Social Media. The QVSource team have been very responsive and we were able to put together a test app very quickly, largely on the strength of this demonstration we have been able to create a new role for a Social Media Analyst.
We are currently using the Twitter, Facebook and Klout connectors to start to give us a new understanding of our customers in real time as well as to understand fully how competitors and aspirational brands are using Social Media."
Tony Evans
Business Analysis Manager
Eurotunnel passenger Division
Connectors:
Blue Yonder, Twitter, Facebook Fan Pages, Facebook Insights, YouTube (Data), YouTube (Analytics), bitly, Email Inboxes, PeerIndex, Salesforce, General Web Connector (XML/JSON), Google AdSense, Google AdWords, Google DFP (Doubleclick For Publishers), Google Analytics, Google Calendar, Google Docs, Google Drive, Google Spreadsheets, heidi, Windows Azure Data Marketplace, iTunes Connect, Sentiment Analysis & Text Analytics (7 different APIs supported), SugarCRM, Twingly (Blog Search), MailChimp, Klout, OData, MongoDB, LinkedIn, Hellopeter, Mashape
Start your Social Media Analytics journey with QVSource and Qlik
Differentia Consulting are a Qlik Elite Solution Provider offering full life cycle services and complementary business discovery solutions.
Call us on +44 1494 622 600
or email

[email protected]