QlikView
QlikView as part of Qlik's analytics platform delivers true self-service BI that empowers business users by driving innovative decision-making.
QlikView helps you Understand your business in brand new ways by:
Consolidating relevant data from multiple sources into a single application
Exploring the associations in your data
Enabling social decision making through secure, real-time collaboration
Visualising data with engaging, state-of-the-art graphics
Searching across all data, directly and indirectly
Interacting with dynamic apps, dashboards and analytics
Accessing, analysing and capturing data from mobile devices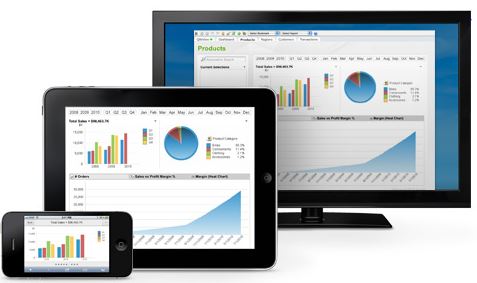 Empower Business Users
QlikView's associative experience provides answers as fast as you can think up questions. It lets you interact with data without limitations to generate insight in ways you never imagined.
Business Users Can:
Uncover hidden trends and make discoveries that drive innovative decisions
Ask questions and pursue insights on your own or collaboratively, on the fly, on the road
Search across all your data to get the big picture, just type any word or phrase, in any order, into the QlikView search box for instant, associative results that let you see new connections and relationships across your data
Benefit from self-service BI with no need to go back to IT or business analysts for new queries or reports
Enable IT Pros to Deliver Self-Service BI
QlikView lets IT deliver a complete self-service BI experience, serving the business like never before, all while assuring strict data security, quality, and governance.
IT Professionals Can:
Consolidate data from multiple sources to deliver a complete data picture to business users
Remain focused on data security, data and application provisioning, data governance, and system maintenance
Take writing and rewriting reports, tweaking queries, and building cubes off your already full plate
Administer easily through QlikView's web-based management console. It's a unified way to provide everyone access to the latest data and analysis, with role-based administration to ensure data access to only those who have permissions.
Gain visibility into data lineage and use across your QlikView deployment
Make Life Easier for BI Pros/Developers
QlikView makes it easy for business analysts and BI developers to create cutting-edge BI apps that users can enhance and extend as business needs change. Differentia Consulting has built a number of Smarter.BI ..powered by Qlik applications for example.
BI Pros/Developers Can:
Easily create and manage data definitions, transformations, and business logic, and reuse them across QlikView apps
Quickly and iteratively design Business Discovery apps
Create and manipulate a wide variety of visualisations and change them on the fly
Create extensions using QlikView Workbench (a Microsoft Visual Studio plug-in)
Integrate with enterprise portals and collaboration sites using QlikView web parts for use with Microsoft SharePoint
Connect directly to popular business applications and data sources, including JD Edwards, Salesforce.com, SAP NetWeaver, Informatica, Teradata, Hadoop and Google BigQuery
The QlikView Difference
It's what QlikView does with in-memory technology that really makes a difference.
The QlikView Business Discovery platform:
Has an inference engine that maintains the associations in the data automatically
Calculates aggregations on the fly, as needed, for a super-fast user experience
Compresses data down to 10% of its original size to optimise the power of the processors
Accomplishes both within a single, comprehensive product
The Result, Less Maintenance and Faster Deployment
Neither users nor developers have to maintain the associations in the data, so organisations can move rapidly from prototyping to deployment to refinement.
QlikView's Core Technology
QlikView makes it easy for business analysts and BI developers to create cutting-edge BI apps ("QlikViews") that users can enhance and extend as business needs change.
QlikView is an In-memory BI Pioneer
In-memory is important for performance, but it takes a lot more to deliver a Business Discovery platform. Traditional BI based on queries and cubes may run in memory for faster response time, but they still require IT to manually maintain the data associations users depend on.
Start your Analytics journey with QlikView
Differentia Consulting is a Qlik Elite Solution Provider, offering full life cycle services and complementary business discovery solutions.
Call us on +44 1494 622 600
or email:

[email protected]
Request more information or a demo