Differentia Consulting at Qlik Visualize Your World
London, 12th October 2017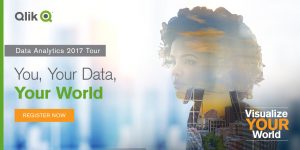 Qlik was founded on one simple belief: Business Intelligence is optimised when you harness the collective human intelligence across an organisation. The more that people use analytics, the more value people get from analytics. When this occurs it accelerates organisations towards their goal of being more agile, data driven businesses that uncover and take advantage of new possibilities.
Qlik Visualize Your World, London, 12th October 2017, provides a unique opportunity to learn how visual analytics can help you challenge conventional wisdom and see the whole story in your data.
Date: Thursday 12th October 2017
Time: 9.30 – 16.30

Venue: QEII Centre, London, SW1P 3EE (View on map)
Join Differentia Consulting and more than 300 of your peers at Qlik Visualize Your World, London, 12th October 2017 to explore the latest innovations in data analytics. Qlik's flagship event will include interactive sessions with expert guest speakers, and customer case studies from Rentokil-Initial, Avon and Somerset Constabulary, Lloyds of London and many more.
Why Attend:
Learn from our customers – do more than just report data.
In-depth breakout sessions that cover Advanced Analytics, Big Data, IoT and Hybrid Cloud
Network with your peers – meet with an elite community of business leaders and visit us in he partner networking zone.
Register now 
Differentia Consulting's Qlik Services
Differentia Consulting are very pleased to be gold sponsors of Qlik Visualize Your World, London, 12th October 2017. We will be demonstrating how Qlik can be used to ensure that your company is GDPR compliant before May 2018. Our lunchtime session will focus on GDPR compliance, and you will have the chance to question our subject matter experts. We will also be showcasing our extensive range of Qlik Services that we offer, including training, support, resourcing, consultancy, customer care, managed services and enterprise architecture. We look forward to seeing you at the event.
Make smarter business decisions with #SmarterBI, #SecureBI powered by Qlik and Blackberry delivered by Differentia Consulting.