London, England June 2021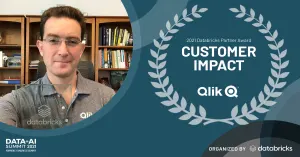 Qlik's strategic partnership with Databricks has been growing over the last year, driven by a mutual focus on helping customers maximize the value of data and analytics in any cloud. From the strong overall integration with their data integration platform, to their SQL analytics integration announced last autumn, to the recent inclusion of Qlik's entire platform as a key partner in Databricks' recent announcement of their Google Cloud partnership – customers know they can confidently leverage Qlik's entire end-to-end platform to drive increased use and value of data in any cloud through the Databricks data lake.
The power of combining Qlik and Databricks was recently recognised with Qlik's selection as the winner of the Databricks ISV Customer Impact Award, which was just announced at this year's Databricks' Partner Executive Summit. This award is given to the partner who has gone above and beyond to meet the need of joint customers like J.B. Hunt who are deploying Qlik and Databricks together to transform their business. (link to DB blog) Another joint customer, Condé Nast, is seeing great value in leveraging the cloud-agnostic aspects of Qlik data integration to build the modern data pipelines needed to feed their Databricks on Google Cloud instance. To learn more about how J.B. Hunt is using Qlik and Databricks for analytics and business insight, watch this on-demand case study webinar.
"Customer success is the best evidence of the value Qlik and Databricks bring together," said Itamar Ankorion, SVP Tech Alliances at Qlik. "With Qlik Data Integration, Analytics and Databricks, our mutual customers are building innovative solutions that make a real impact on the bottom-line. On behalf of the Alliances team, thank you for honouring Qlik with the 2021 ISV Customer Impact Award."
The joint value of Qlik with Databricks will be on display in multiple Qlik sessions this week during the Databricks Data+AI Summit 2021, where Qlik is also a Gold Sponsor.
"Over the last year, we've seen a ton of demand from customers to modernize their data architectures in order to address the criticality of customer responsiveness, service quality and operational efficiency," said Pankaj Dugar, VP of Product Partnerships at Databricks. "Qlik's support for Databricks, in both data integration and analytics, has enabled us to jointly meet and exceed our customer demands."
Media Contact:
Donna Hopkins
Head of Customer Care
Differentia Consulting
[email protected]
www.differentia.consulting/news
Networking Opportunities
Differentia Consulting strives to encourage a supportive Qlik Community where we can share and support one another. Whether this is via events or direct introductions, please contact us to learn more.
Social Media
To stay up to date with Differentia Consulting news, please follow us online:
Twitter: https://twitter.com/DCLUK
Facebook: https://www.facebook.com/differentia.consulting/
LinkedIn: https://www.linkedin.com/company/differentia-consulting/
In addition, there are some LinkedIn groups that we suggest you subscribe to;
Qlik Application Platform Global User Group – https://www.linkedin.com/groups/72977/
Qlik Application Platform Global UK User Group – https://www.linkedin.com/groups/1882895/
Qlik and SAP – https://www.linkedin.com/groups/1891998/
#CyberHygiene – https://www.linkedin.com/showcase/cyberhygiene/
Recommended Qlik Community Feeds
Qlik has consolidated much of its information, including self-service support information to the https://community.qlik.com site and we'd recommend that you subscribe to some of their feeds – in particular the Support Updates Blog.