Qlik Customer Day 2016 – Your Qlik Success
Thank you for supporting us with this event, we hope that those attended found the event both enjoyable and informative. We had a lot of customers interested in finding out more about QlikView NPrinting. QlikView NPrinting 17 is Qlik's next-generation reporting and distribution solution for QlikView, helping spread knowledge and insight across an organisation and beyond.
Please see below presentations which are provided as a reminder of the day.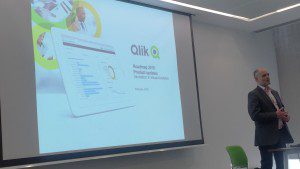 Qlik
QlikView 12
Chris Fitzpatrick
(available soon)
Your feedback from the day:
"Congratulations on a well organised event. Everything that a BI Conference should cover was covered."
"Very worthwhile with a lot of interaction between visitors. Good opportunity to learn more about the product and how customers use it."
Our next customer events will be on the following dates:
September 22nd 2016 – We need speakers, let us know if you would like to speak
March 23rd 2017
We look forward to seeing you again in 2016, in the meantime if you have any questions or require any further information then please contact either your Account Manager directly or email [email protected]. For more information about QlikView 12 you can access an information sheet below. Alternatively, please click the link below to download your free version of Qlik Sense or QlikView.
Download Datasheet