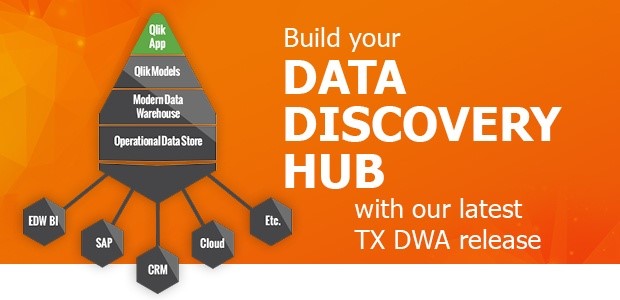 TimeXtender DWA version 16.10
Differentia Consulting is proud to announce the release of TimeXtender DWA version 16.10. Building the Data Discovery Hub now got even easier and faster.
Benefit from the new Qlik features in TX, which minimise the need for manual scripting in Qlik.
You can now:
Directly deploy apps to Qlik Sense Enterprise
Solve circular references in Qlik from within TX DWA
Create custom scripts and custom fields to a Qlik model from within TX DWA
Gain advantage from new and improved features:
Integrate with Dynamics AX's public cloud – Azure – version through a dedicated connector
Create project documentation more easily through an improved user interface
Autogenerate project documentation in XPS or PDF format
For more information on TimeXtender for Qlik click here.