Embed Inphinity Suite into Smarter.JDE …powered by Qlik
As a JD Edwards user, would you like to integrate data capture capability into your analytics solution that saves you time, without bombarding you with new layouts and unnecessary changes?
Join us for an online demonstration of how to add a forecast to your JD Edwards analytics in real time using Smarter.JDE and Inphinity Suite on the 19th of October at 4PM (UTC+1).
Differentia Consulting was founded by partners from a background in finance, specialising in JD Edwards (JDE), and so we have been offering JD Edwards solutions for the last twenty years. As an Oracle partner, we understand your dedication to JD Edwards, and now you can capture data to enhance your ERP analytics, without fuss.
Our most popular offering for fellow JD Edwards users has been Smarter.JDE, a Qlik solution comprised of powerful, customisable, pre-built dashboards that continue to enable users to connect JDE data (in hours) and deliver immediate value. Smarter.JDE comprises a suite of extensible Dashboard Application Templates that immediately improve visibility into some of the most critical JDE functional areas including General Ledger, Sales, Accounts Receivable, and Accounts Payable. Smarter.JDE also includes our Script Builder for more consistent and efficient JD Edwards extraction and transformation.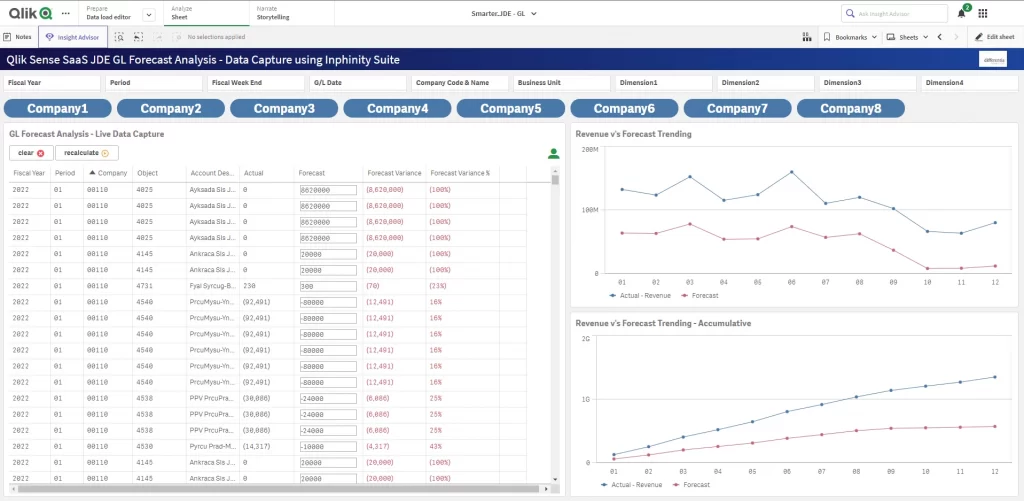 Now with Inphinity Forms and Flow we can help you to finally profit from fast, simple and no-fuss data capture within your analytics, that will significantly reduce your workload, without disrupting the JD Edwards environment that you rely on. Inphinity Forms allows you to simply enter your own inputs and edit data directly into your JD Edwards Smarter.BI solution (including JD Edwards World and JD Edwards Enterprise 1) e.g. forecast information or commentary, while Inphinity Flow avoids functional data silos by visualising your JD Edwards data as processes, such as procure to pay and order to cash.
Join us on Wednesday the 19th of October at 4PM (UTC+1), for an online demo with our managing director Kit Mundy, and discover how you can continue to make a difference with Smarter.JDE and JD Edwards.
During our short demo we will show you how to add a forecast by hand to existing General Ledger data across multiple companies, and compare your JDE Forecast to Actuals and Budget in real-time. Enabling you to make smarter decisions and critical adjustments to your business.
---
Register