Qlik Customer Day March 2022 – Register for the recordings now
Differentia Consulting held our Envision | Execute | Evolve Qlik Customer Day in March 2022. In partnership with Qlik® and other leading Vendors, we explores lots of innovative ways in which you can extend your use of Qlik products.
Register for the recordings now to find out how flexibility, agility and awareness can help your business respond to a more disruptive world. Discover how to use data and analytics to uncover more of the unseen – and act early enough to make an impact.
The free #SmarterBI event on 16th March was open to all Qlik Customers and Prospective Customers, so register for the recordings now, and enjoy customer interviews and presentations from Inphinity, Vizlib, ZenOptics and new partners Incorta and Cluster.
Qlik Customer Day March 2022 details:
Date: 16th March 2022
Time: 10.00 – 16.00
Location: Online – Register for recordings
At our Qlik Customer Day we had a great selection of customer and industry leader speakers talking to us about the latest trends, innovations and strategies for accelerating business value with data.
Updates: Hear the latest news regarding Qlik's modern BI product portfolio, and how this provides a platform for all of your analytics needs.
Customer Success Stories: Discover how your peers are using Qlik's products to drive competitive advantage and solve their business problems.
Complementary Products: Take the opportunity to see how third party products could enhance your Qlik implementation and make the impossible possible.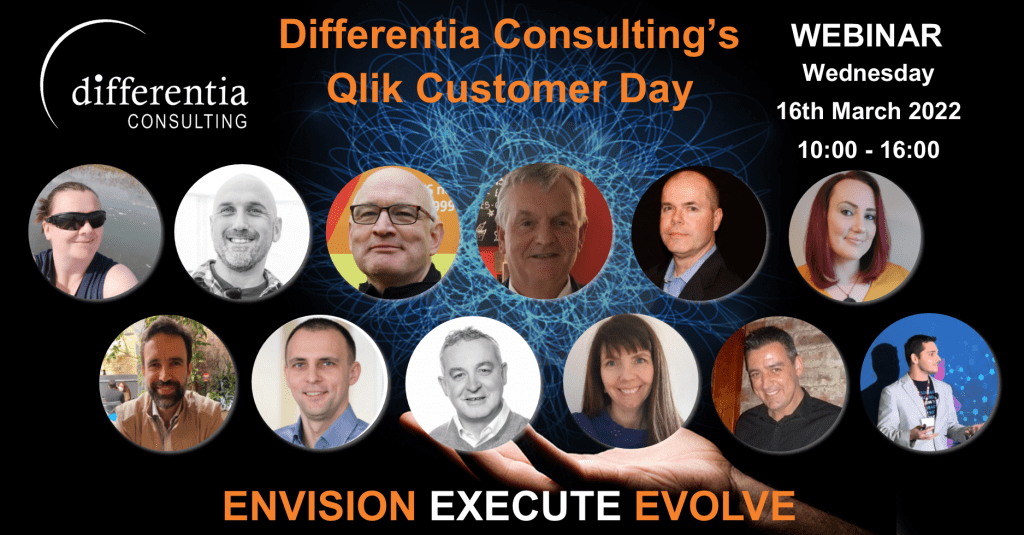 Qlik Customer Day March 2022 – Register for the recordings
The event is free to attend by registering, and all registrations will go through a checking and approvals process before reservations are confirmed.
Qlik Data Integration Qlik Data Analytics

Data Literacy – Why it is important to us all
Take the one minute Data Literacy survey
Differentia Consulting is supporting Qlik in raising awareness about the lack of Data Literacy in the world.
We invite you to have a free data literacy check. Qlik Free Data Literacy check[/vc_column_text]
Newsletter:
If you would like to be kept informed about Differentia Consulting News and Events then please sign up to our newsletter at the end of the page. Thank you.