Qlik Sense Smart Search in 2016
Is your search capability letting you down? Are you not seeing what you are looking for, but know it is there? Are you responsible for search, or a web designer frustrated by the search capability of your web search tools?  Did you know that Qlik Sense in-memory associative Search is available as part of Qlik's API set? You can adopt Qlik Search natively in Qlik Sense or embed via mashup into your applications. Eg Salesforce.com (below)
Qlik Sense Smart Search is the global in-memory associative search tool in Qlik Sense, meaning it is available via Qlik's API set as part of standard mashup integration for example.
Qlik Sense Smart Search in Qlik Sense
Smart Search allows you to search the entire data set in your app from any sheet in the app. Smart Search returns results in two ways: under Explore, where the visualisations in which the search terms are found are displayed, and under Apply a selection, where lists of matching data items are shown.
When you click on a result under Explore you will jump to the sheet on which that visualisation appears. If you click on a result under Apply a selection, the results disappear and the selection is applied.
Smart Search is available when you are analysing data on a sheet. From the visual results you can navigate directly to the sheet on which the visualisation is found. The data results help you to find associations and make selections in your data.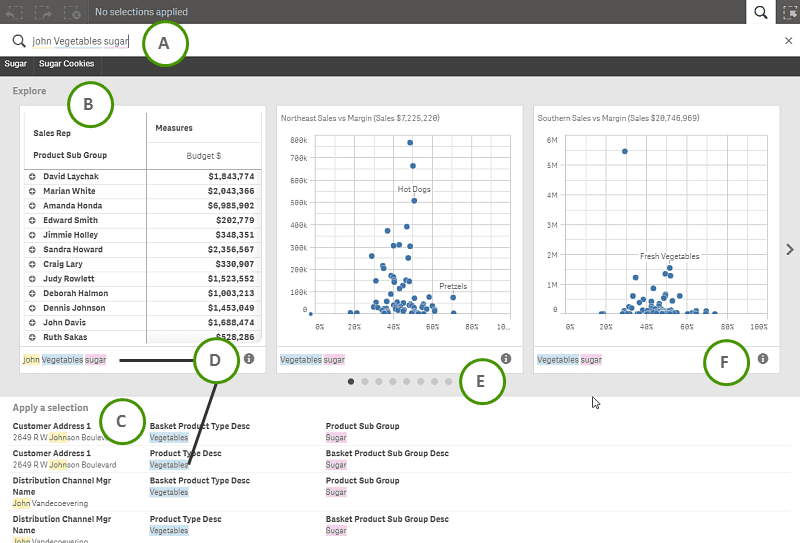 When you are analysing data on a sheet, smart search is available from the selections bar. Click F to open Smart Search.
What happens when you search?
As you type your search query, Qlik Sense searches simultaneously in visualisations and data items.
Searching in visualisations, smart search filters the values as you type and displays the visualisations where the search items match the following:
Title, subtitle, and footnote
Dimension definition and label
Dimension values (searching for where a dimension uses a value and displays charts where that value is used).
Measure definition and label (not value)
Text & image object. The text in the object is not searched.
Searching in data items, smart search filters the field values and displays the matching items. Smart search looks for:
Field values
Dimension values (also dimension values that are created as master items).
Measures (measure values) are not included in smart search.
The screenshot shows the results of searching for john, Vegetables, and sugar, which generates one search query for each term.
How to embed Qlik Sense into Salesforce.com
Part 1:  Introduction
Part 2:  Embedded Analytics Use Case Demo
Part 3:  Qlik Sense Client & Other Features