Qlik ODAG and Big Data
Qlik ODAG and Big Data. Qlik On Demand App Generation (ODAG) is providing users the self service data selection option with Big Data sources enabling Business Discovery on a much larger scale.
With On Demand App Generation, users interact with a selection app, containing only aggregate data. When data has been filtered under a predetermined threshold, users can generate a detail app, based on a pre-built template app, that will contain the detail data based on their selections.
Qlik Hadoop and Cloudera
One such Big Data source is Hadoop. Hadoop began as a project within Google in 2003, and today has been adopted by organisations such as Cloudera to deliver Big Data solutions to clients. Qlik and Cloudera have worked together to deliver integration at multiple solution touch points.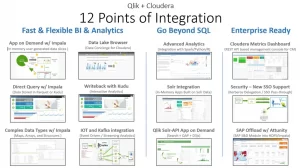 To demonstrate these touch points Cloudera and Qlik has created a demo-site. If you would like more details on how to adopt ODAG in your Qlik and Big Data landscape please contact [email protected]