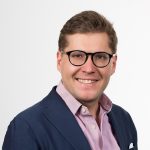 Dan Sommer
Senior Director, Market Intelligence Lead at Qlik
Dan is a Senior Director and global lead for Qlik's Market Intelligence Program responsible for the supply, demand, macro, and micro picture. With more than 18 years of experience in the IT industry, Dan is a frequent keynote speaker, blogger, and columnist. Dan has previously held the positions of Research Director, Agenda Manager, and Global Lead for BI and Analytics Markets at IT research and advisory company Gartner. During the ten years he spent as an analyst at Gartner, he specialized in markets, trends, competitive landscape evaluations, and go-to-market strategies.
About Qlik
 

Helping you lead with data

Qlik is on a mission to create a data-literate world, where everyone can use data to solve their most challenging problems. Only Qlik's end-to-end data management and analytics platform brings together all of an organization's data from any source, enabling people at any skill level to use their curiosity to uncover new insights. Companies use Qlik to see more deeply into customer behavior, reinvent business processes, discover new revenue streams, and balance risk and reward. Headquartered in King of Prussia, Pennsylvania, Qlik does business in more than 100 countries with over 48,000 customers around the world.