Virgin Awesometer drives rapid reaction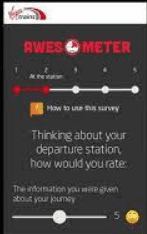 Virgin Trains can now analyse feedback from its customers in real time using an app developed by eCRM specialist ITG Creator.
The Awesometer gathers real-time customer survey information, generating instant reports so the train operator can take immediate business decisions across the network.
Results are presented in an intuitive graphic form, benchmarking customer satisfaction KPIs across network routes, stations, trains, class and onboard services.
Chris McDermott, Customer Experience Manager at Virgin Trains, said:
Awesometer allows us to get much closer to our data, doing the hard work for us. It immediately shows key trends for specific search criteria, giving us complete control over how we explore what customers are telling us.
The launch of the portal has been very exciting, enabling us to make improvements that make a real difference to our customers.
The real-time feedback can be accessed by over 600 Virgin Trains staff at every level of the business, from head office to frontline and fleet teams. The insights enable them to take instant action based on aggregated feedback or specific comments.
Mark Brennan, CEO of ITG Creator, said:
Awesometer enables us to use our expertise in CRM data, actionable insights and technology to provide Virgin with a means of reacting quickly and efficiently to customer feedback.
By analysing survey results in real time and presenting them in an easy-to-understand form, the same technology could be used by any company to improve its relationship with customers by analysing their feedback and sentiment and taking immediate action.
ITG Creator is a specialist in CRM execution and analysis, using customer engagement data across all touchpoints to create personalised engagement with existing and potential customers.
In February, Creator was acquired by marketing technology and services company Inspired Thinking Group, whose marketing automation software Media Centre supports the marketing operations of global retailers and brands, including Heineken, Puma and Audi.
About Inspired Thinking Group
Founded in 2009, Inspired Thinking Group (ITG) is a specialist marketing services and technology business that helps major brands and retailers improve the efficiency, speed, cost and control of their marketing operations. ITG employs over 500 people.
ITG's head office and artworking studio are based at Fort Dunlop in Birmingham. It has a technology centre in Dartford, where it develops marketing resource management platform Media Centre. Media Centre manages all the marketing administration tasks faced by its clients, including briefing, requesting quotes, managing assets, approving artworks, planning campaigns, managing suppliers and reporting on all marketing activity.
ITG recently acquired Creator (now ITG Creator), which manages the strategic development of online sales and services for over three billion customer engagements.
Creator helps companies understand and react to customer behaviour, making sense of big data to turn it into revenue opportunities. Clients include TUI Group, Liberty Global, Merck Sharp & Dohme, Virgin Media, Virgin Trains, Kwik Fit, Axa, De Vere, The Gym Club and David Lloyd Clubs.
ITG has recently opened offices in Chicago and New York, and has client offices in The Netherlands, France and Germany. Clients include Heineken, M&S, Audi, Tesco, Joules, Puma, Å koda, Pizza Hut, Renault, Sainsburys, Bourne Leisure, Cath Kidston and Care UK.
Full story:
http://www.openbusinesscouncil.org/2016/05/virgin-awesometer-drives-rapid-reaction/
Awards and Recognition:
https://www.businesswire.com/news/home/20170201005012/en/ITG-Creator-Helps-Virgin-Trains-Improve-Customer
https://www.thedrumnetworkawards.co.uk/drum-network-awards-2016/campaignstrategy-consumer-insight-award/awesometer
https://dma.org.uk/awards/winner/2016-bronze-best-data-strategy