This event has now concluded. For our latest events, please refer to our events page:
Event Details
UKOUG Financials SIG 2015 | Maple House | 10th September 09.00 – 17.00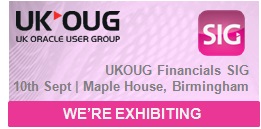 Differentia Consulting are sponsoring and exhibiting at the UKOUG Financials SIG 2015. The UKOUG Financials SIG 2015 is being held at Maple House in Birmingham on the 10th September. This SIG is the chance to network and to discover the latest thinking and practices from their peers.
Differentia Consulting will be showcasing the Smarter.BI range of applications during the course of the UKOUG Financials SIG 2015 as well as showcasing the benefits that you'll receive from integrating your Oracle solution with Qlik through our intuitive Smarter.BI range of dashboards.
During the course of the SIG, you'll be able to network with other like-minded professionals and discover the latest developments in the financial sector. There will be a number of a keynote speakers and experts on hand to provide you with the information you need.
Differentia Consulting will be showcasing our specialised financial dashboard, Smarter.CFO, at the SIG. You'll be able to experience Smarter.CFO through an interactive demo, through clicking on the Smarter.CFO button below.
Click here to register to attend the UKOUG Financials SIG.
Financial Services 
Enquire 
Smarter.BI
Smarter.CFO Demo