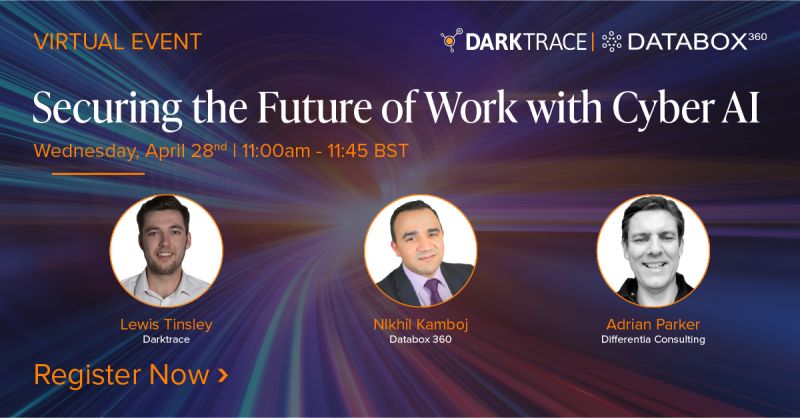 A #CyberSecurity webinar presented in partnership between Databox 360 and Darktrace.
Adrian Parker, SVP Operations & Strategy at Differentia Consulting will be speaking about our own #CyberSecurity endeavours.
#CyberSecurity is more than ever before as business leaders need to remain confident that their operations can continue securely in the face of global or even regional crises.
While sections of the economy are slowly re-opening, cyber attackers are keeping up and finding new ways to compromise our systems.
The sad news, is that cyber attacks are on the rise. 68% of business leaders feel their cybersecurity risks are increasing*.
The ICO's latest quarterly data security trends report confirms that the number of cyber security breaches reported has doubled when compared to the previous quarter. These only account for the small percentage that get reported.
(*Accenture)
The last thing you want as you come out of COVID restrictions is to be taken down by cyber attacks.
Date: Wednesday 28th April 2021
Time: 11:00 – 11:45 BST
What would happen to your business if you had a cyber attack?
How would you work?
How long would you be offline for?
Would you have breached data regulations?
What financial implications would there be?
Planning for cyber attacks and knowing the immediate and long-term implications of one are what all businesses should know.
With this information, you can very quickly limit damage and data risk, get back online faster and know the time and financial implications.
This webinar will help you to understand how cyber attackers get in and what you can do to stop them, using AI technology.
If you use connected digital systems, you are at risk
Cloud-based business applications (Office 365, CRM etc) – need constant monitoring to prevent cyber attacks
New technology in your business must be implemented with cyber risk in mind
Legacy systems should be maintained or isolated
Hacking, scams, phishing, malware and online fraud is on the rise
Scammers keep inventing new ways to get in
Cyber attacks are complex and run by extremely sophisticated, malicious software
In this webinar, you will find out how Darktrace technology can:
Spot attacks
Stop attacks 24/7
Identify the source and impact of the attack
Show you how the attack infiltrated your system
Keep your data safe
Hosted by:
Darktrace (Lewis Tinsley)
Databox 360 (Nikhil Kamboj)
Databox 360 are a Gold Partner of Darktrace, a world-leader in AI cyber security solutions and with them, and are offering a free webinar to help you to understand where the risks are and how AI technology can be used to minimise them.
Darktrace has already deployed #CyberSecurity solutions to the public sector, private sector, large and small corporates and SMEs to keep them safe from cyber attacks.
AI can really be an asset to your business and this webinar will explain how.
Databox 360 works with businesses to assess their current provision, suggest areas of improvement and implement what's needed to fend off cyber attack risk.
Please register here to attend this #CyberSecurity webinar.
Register CyberHygiene Back to Events
Qlik is raising awareness about the lack of Data Literacy in the world, specifically the USA and invite you to have a free data literacy check.