This event has now concluded. For our latest events, please refer to our events page: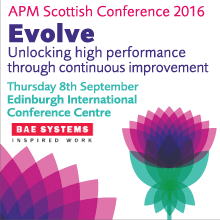 APM Scottish Conference 2016
Differentia Consulting are pleased to announce they will be attending and exhibiting at the APM Scottish Conference 2016.
Date: 8th September 2016
Location: Edinburgh International Conference Centre, The Exchange, Edinburgh, EH3 8EE
Project management plays a critical role across every sector. The profession is continuing to evolve as project management becomes embedded in organisations and new approaches are developed. The APM Scottish Conference 2016 will focus upon how project management has improved as a profession, how it continues to improve, and how those improvements have found practical applications across a wide range of sectors running key projects across Scotland.
What to expect from Differentia Consulting?
Differentia Consulting will be showcasing their solutions and services and how these generate a competitive advantage for your business. Differentia Consulting's main focus will be around their Smarter.PMO solution, the solution allows you to see your programme in new ways, saving you days per month per project on your reporting and analysis. For more information on Smarter.PMO please click here.
Twitter: